Den 4

Den Leader- Mike Mihalic
Assistant Den Leader - TBD
Den Chief - TBD
The Webelos

A.J. (Austin) M.
Adonijah M.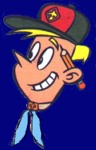 Webelo Advancement Progress Chart

Den leaders update your scouts records on the net. CLICK HERE (Password Required)
Use the scroll bars at the bottom and on the left of the chart to find the scout's name you are interested in.
Compare this chart to your scout's book and note any discrepancies by name, description, and number, for example "Aquanaut, Use snorkel, 4" If you find a discrepancy notify your den leader or E-Mail the awards chair by clicking HERE. Be sure to include Your name, the scout's name and the description of the discrepancy. Keep in mind that this record will only be updated monthly one week prior to Pack meetings.
Achievements
a=achieved P=Partially completed C= Completed