Riddle Me This Answers
April
I am strongest when you see me as round, but I am often viewed in other forms. I lift & drop the sea with my tremendous strength, and a man with a name like 'powerful bicep' was the first to tread on me. What am I?
My first half is a container, & I am language understood by few, if any. What am I?
JARgon
It goes up, but at the same time goes down. Up toward the sky, and down toward the ground. It's present tense and past tense too, come for a ride, just me and you. What is it?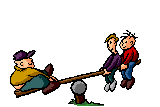 See-Saw