Welcome to the Home page of Troop 303's Website
Revised: 04/18/02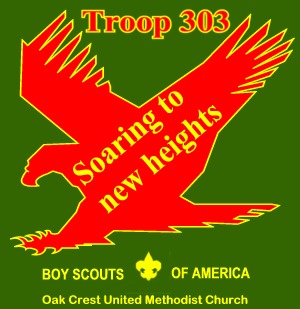 Use the menu links on the left to navigate the site. Feel free to make suggestions or leave feedback.
Click the LOGOs to visit their sites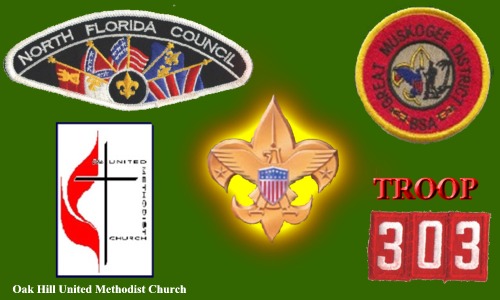 Meetings are held Thursdays at 7:00 PM at Webster Hall
Troop_Talk is a PRIVATE list for the purpose of promoting open communication within Troop 303. Membership is on approval basis to protect privacy.
The 303 Scout mailing list is for those who wish to receive website updates and newsletters via e-mail.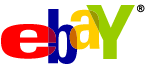 click the logo to see an E-Bay search containing hundreds of Boy Scout items
Campership Camp Scholarships Deadline April 30, 2002
2002 District Program Events
Scout Blast
May 17-19 at Cecil Field
Cub Scout Twilight Camp
June 3-7 at United Pentecostal
Contact Linda Barfield 786-3668
Great Muskogee Provisional Contingent July 7-13
Contact Jeni Hall
Camp Echockotee (Aquatics Camp)
Contact Don Richards 388-0591
Click for map to Stilwell Middle School
Scouts visited and left no trace